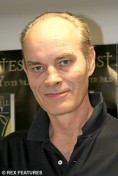 I started reading David Gemmell again this week, after a five-year hiatus. He passed away in 2006 and I've not been able to read the remainder of his works (specifically the TROY series) because the sadness of my favorite author's death hit me that hard.
Fantasy writers James Barclay ("Chronicles of the Raven," "Legends of the Raven"), David Alastair Hayden (WRATH OF THE WHITE TIGRESS) and myself began discussing the Legend himself on my Goodreads review thread and such nice things were said I felt compelled to share it here.
---
JAMES BARCLAY: I loved this book… [TROY: SHIELD OF THUNDER]. Troy is a brilliant series from Dave - tragic that he died when we was writing so well. I hope you enjoy it.
ME: Certain moments stay with us forever. Some in my generation were hit hard the day Kurt Cobain died. They remember where they were when they heard the news. More recently for some, Michael Jackson. For me, I was hit hard by David's passing. I discovered his work in the '90s and he fast became my favorite author, bar none. Late July 2006, when I read the news online, though I'd never met him personally (I understand you knew him rather well?), his stories had mingled within my heart and soul and I remember actually gasping "no!" with tears welling in my eyes. My first thought was no more Gemmell books?!; my next was mourning for the passing of a legend whose work, in my opinion, wasn't appreciated nearly enough. Today his legions have steadily grown and his work has garnered much of that missing esteem, thanks in part to the efforts of people like yourself and the DGLA folks. After he died, I put his books on the shelf -- the unread ones -- and haven't touched them for five years. I haven't been able to bring myself to indulge in his work, knowing soon I'll be finished with it all, but I'm finally picking them up and losing myself in his world. When I finish the Troy series, I will have read everything David wrote. That's going to be rather bittersweet, I do believe.
Thanks for the message, James. I intend to read your work very soon! I love Pyr and you're in great company with the likes of Lou Anders and Joe Abercrombie.
DAVID ALASTAIR HAYDEN: I really must comment here.
a) I just started reading DAWNTHIEF [by James Barclay].
b) Lou Anders is a buddy of mine.
And most critical...
c) I love David Gemmell. (Second favorite author after Michael Moorcock. I like to think of my books as a paler shade of a cross between the two.) My experience was exactly the same as yours, J.M.
David's death hit me hard. Unexpected. Too young. When you read enough books by an author, you get to know them, or at least one inner side of them. And though I never met him, David seemed more than most to share himself through his writing. I loved him for that.
When he died, I'd read everything he'd written except the first two Troy books. They're still sitting on the shelf. Waiting. Because I know there will never be more. One day I will take them down from the shelf and bask, but I'm not ready yet.
ME: David, that is well said (or typed). Most certainly too young to have passed at age 58 [My mistake: He was 57 at his passing].
But, yes, this is why he resonated with me too, how, like you said, he shared himself through his characters, a paragon of a man who could be strong yet gentle, brave yet wise, a mentor and a defender. He was a role model who imparted lessons to young men (and women) through his stories. I loved that and needed it during my twenties.
I feel a kinship with you! It's neat to have found someone else who felt the loss deep enough he couldn't bring himself to finish Gemmell's last remaining work just yet.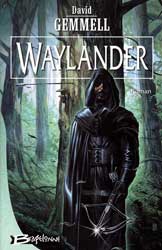 DAH: Agree with all that you said. I discovered his books just before a time in my life when I dealt with a lot of depression. They were immensely helpful to me. Think I read WAYLANDER three times one year.
I read an interview once where David referenced how important Marvel Comics had been to him in his youth, reading about flawed characters being heroic despite everything wrong in their lives. He took that and turned it up to 11. I have yet to see anyone achieve quite the same heroic drive, and so consistently, in their fantasy fiction.
JB: Dave was a great man. He was a good friend and a peerless mentor. One of the most wonderful things about him was the way he found so much time for other people.
His signings went on for ages because he'd chat to everyone - and that was because he genuinely cared about his fans and never ever forgot it was fans that allowed him to do the thing he loved the most.
We spent long hours chatting about writing and other authorly things and I credit him with rescuing my book 'Shout for the Dead' - the second Ascendants book. I was stuck fast and one day and long into the night at his house, he picked the problems apart and reassembled them as solutions. I miss him to this day and always try to think 'What would Dave have done?' when I'm in a hole.
He'll live on in the hearts of his fans forever and that is a truly great legacy. A great among authors in any genre and the undisputed king of heroic fantasy.
I hope all who read my work enjoy it - I'm always happy for constructive criticism, would obviously prefer unadulterated praise.
DAH: It does not surprise me in the least that David would make so much time for his fans. I very much wish that I'd had the chance to meet him. And yet I feel in many ways like I have.
And I prefer to give unadulterated praise, though I'm good with constructive criticism.
The first chapters of DAWNTHIEF are wonderful, by the way. I had to put it down because I realized book club was a week sooner than I thought. And it's a Pyr book we're reading. And I'd end up sitting across from Lou Anders having not read the book... But I'm definitely returning to DAWNTHIEF as soon as I finish this book.
ME: That's a wonderful rule of thumb for a fantasy writer, James: WWDHD! If I'm honored enough to meet any of you gents at a con someday, we must raise an after-hours ale in memory of those who've guided us, who have honed our skills, and especially to one of the greatest writers of all time.
JB: I look forward to raising that ale, JM. And three more after it. Then perhaps another two.
David - thanks for your early feedback. Lou'll be glad to hear you're enjoying DAWNTHIEF. Hope the book club book entertains...
---
For more information about David Gemmell and his works, Black Gate has
an excellent article
by Wayne MacLaurin and Steve Tompkins.
Also: Become FANS of James Barclay and David Alastair Hayden on Goodreads!
*Some c0mments from the original thread have been omitted.