When writer David Gemmell passed away in July of 2006, just days shy of his 58th birthday, I felt like I had been punched in the face. It was one of those moments for me like the death of Elvis might have been for folks of the previous generation. That's how much impact Gemmell's work had on me. I remember reading about it online that very morning and yelling, "NO!" out loud and quite explosively. Hearing this and seeing the stunned look on my face, my wife asked, "What? What is it?"
I shared the news with her and, although she wasn't a Gemmell reader, to her credit she understood and offered her sympathies. Wow, writing this, I remember the day so very clearly. I remember sitting there, feeling a sudden collapse in my gut and a surprising upsurge of emotion throughout the rest of my body. I remember feeling bowled over, and surprised by my own reaction, at the tears welling up. I looked at my wife and said, "Wow, I actually feel like crying,"which she knew was a big deal because I'm one of those men who has to fight the conditioning that tears are a weakness. Gemmell would have scoffed at that notion, I imagine. Although he wrote a type of fantasy where his warriors were masculine and hardcore, he was even more of a champion of the depths of humanity itself, and what it means to be a TRUE warrior and champion, tears included. I spent a good part of that day telling my wife more about the man I didn't know personally but who I came to know through his words, and whose death had made such a striking impact on me.
You see. Like I said, he was only 58. So, one, I felt shortchanged. I was counting on dozens more Gemmell novels over the next two decades, at least.  And, two, I hadn't discovered David Gemmell's work until 1998. His writing career began around 1984, I think, so it was like finding a treasure within my midst, and I had a wealth of books to read since there were roughly 20 Gemmell novels published by then. Not since Tolkien, Robert E. Howard, Edgar Rice Burroughs, Michael Moorcock, Lloyd Alexander, and the discovery of comic books had I been so literarily blasted away.
David Gemmell's work was not only an escapist's romp through the adrenaline surging nuances of heroic fantasy, but it also imparted lessons to its readers; despite undergoing criticism by some—who thought they knew better—of stories like LEGEND, WAYLANDER, and SWORD IN THE STORM for lacking plot and being based on archaic fantasy tropes (the Sword & Sorcery genre went through a definite low period in the '80s and '90s, but I'm happy to say it's on the upswing again). What those critics missed, however, were Gemmell's life lessons on: depth of character, on redemption, on fighting for what you believe in, on protecting those who are unable to fend for themselves, and the value of friendship and love and the lengths one should go to in order to preserve one, the other, or both. These were lessons that resonated with me as a man in his late twenties then, who was often still seeking a role model to cleave to; I found them in the pages of David Gemmell's novels. They fashioned and molded me as a man, as well as a writer.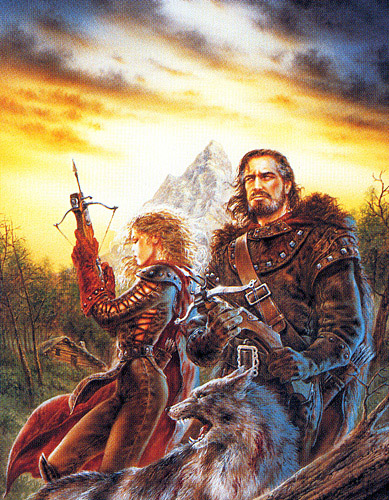 Thence, thus, and therefore(!), it's a joy for me to have recently uncovered another Gemmell "gem." In 2010, the folks at Fantasy Book Critic arranged with Mrs. Stella Gemmell, David's widow, to reprint a short story that appeared years prior in a magazine called "Games Master." That story went live on the 4th anniversary of Gemmell's death (July 28th, 2010), and it's called "The Birth of a Legend."
Fantasy Book Critic summarizes thus:
This excerpt can be read as a preface to chapter 1 in The First Chronicles of Druss the Legend. As it's the first three pages that detail Druss's wedding day [which has not been seen in any of Druss's books] and pages 4 and 5 deal with the first true fight Druss faces [parts of this are already found in the book. Think of this excerpt as a first draft of that scene].
You can READ IT HERE or by clicking the fantastic Luis Royo cover artwork to IN THE REALM OF THE WOLF (above), one of my all time favorite D.G. novels. Enjoy!
And long live Gemmell, the original Druss the Legend!